Volvo Expands Mini Excavator Lineup in North America with ECR18E and EC20E
Volvo Construction Equipment is adding to its E-Series mini excavators in North America with the launch of the ECR18E and the EC20E. The EC20E comes with a range of significant performance gains versus the D Series model it replaces, while the ultra short-swing ECR18E is an entirely new addition to the Volvo lineup.
"We listened to our customers' needs and improved upon our popular D-Series with updates that make the EC20E more productive, more versatile, more durable and easier to maintain. We've also seen growing demand for a short-swing model in this compact class — particularly in the rental market, which our new ECR18E is well-positioned to serve," said John Comrie, product manager, compact excavators at Volvo Construction Equipment.
ECR18E – short tail, big performance
This ultra-short-swing radius mini excavator features a rear overhang of only 0.5 inches when the tracks are fully extended. Designed for low cost of ownership, the ECR18E covers the needs of all applications, however new key features will definitely appeal to rental businesses and landscape contractors. These include:
Top-mounted boom cylinder for protection during loading and braking
Large tie-down points on upper frame for easy, safe transport
Electric ISO/SAE pattern changer
Purpose-built canopy with heavy duty pillars
EC20E – the revamped 2-ton
Versus its predecessor, the new EC20E offers a 13 percent increase in tractive force, 22 percent increased lifting capacity at the front and 7 percent increased lifting capacity at the side. Additional features include:
Auxiliary hydraulic flows can be independently adjusted in each direction, offering the best in both speed and control.
Optional second auxiliary line.
Optional auto engine idle and shutdown
Fold-out coolers
Electric ISO/SAE pattern changer
Additional improvements on both machines
Low height, variable undercarriage: At 79 inches tall and only 39 inches wide with the undercarriage retracted, the E-series models can fit nearly anywhere. Once in position, the undercarriage extends to 53 inches for excellent stability
Easy maintenance: 50-hour greasing intervals and hinged access to fuel, oil and filters
New counterweight and panels: Three cast-iron parts protect the rear while allowing easy access to components. Side/rear panels are now made of stamped steel
Lifetime Warranty on frame, boom and arm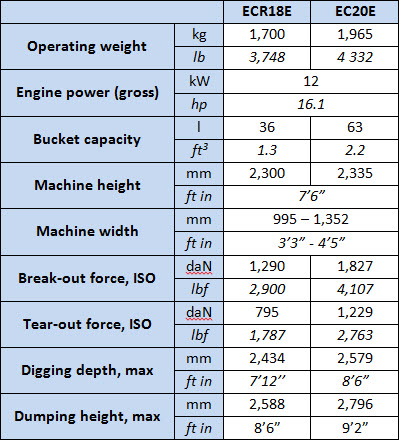 Source: https://www.volvoce.com/united-states/en-us/about-us/news/2019/volvo-expands-mini-excavator-lineup-with-ecr18e-and-ec20e/